Shopping Cart
Your Cart is Empty
There was an error with PayPal
Click here to try again
Thank you for your business!
You should be receiving an order confirmation from Paypal shortly.
Exit Shopping Cart
Island Girl Vacations and Travel
Memories to last a lifetime!
 You can cruise almost anywhere in the world where there is water. It may be a river or ocean cruise. It can be on a large floating city or a smaller more intimat yacht or all the things in between. As an agent I am fortunate enough to have sailed most of the usual cruise lines. A caribbean cruise , a European Cruise from Rome to Dubai, a Pacific Mexico short cruise, and of Course Alaska. Each line has its own personality and focuses and that is where I can really help you navigate all the information you find on line. Specials may make a line that is not usually cheaper not the best choice for the way you cruise. I may also know of lines and types of cruises you never even thought of but once you discover them the wanderlust may take hold. 
New ships come out often and each one trying to offer something new and exciting to entice cruisers to come and experience the ship.  From new ways to have fun like go carts at sea, laser tag, escape rooms, water parks, shooting ranges, bowling, golf, shows galore, and new dining options to luxury accomodations boasting private areas and butlers you can bet there is a cruise vacation out there for you. Most have some kind of kids club to keep the youngest generations happy . They also have great educational options to enighliten persons of all ages about the areas you are cruising in. New on the horizon is Virgin Atlantic's adults only cruise ship that is now being constructed. Ships now offer all inclusive options for dining and drink packes that help make sure ou know what you are spending up front. Some top tier options also include many options for tours at each port. It is all about finding out what you want in your vacation and helping guide you to the best line, itinerary, and ship for your need. 
My current passion is yacht cruising where you rent the ship out and have a captain and a small crew. With a cabin complete with a bathroom and A/C you will comfortably enjoy the area of the world you choose.  There are options across the globe to experience this more intimate, upclose, and less scripted way of cruising. You and your group of friends can hang out and snorkel, paddle board, ski, or scuba to your hearts content. You can experience local culture when you want or return  aboard to dine and drink with your traveling companions, it is up to you.
There are also theme cruises. These vary from the obvious Pirate,to Holidays, different musical genres, or like minded groups. My fave is a week of Jazz activites with names you only hear about but the 80's hairband cruises and Country options are similar.  Cruises like to do Holidays big especially Halloween and Christmas. None more so than the Christmas market river cruises in Europe. Visit cities that look like Christmas cards and get caught up in thier tradiitons. 
What ever kind of cruise is for you if you are considering a cruise please email me or call 620-481-1659 and I would be happy to find just the right option for your next vacation.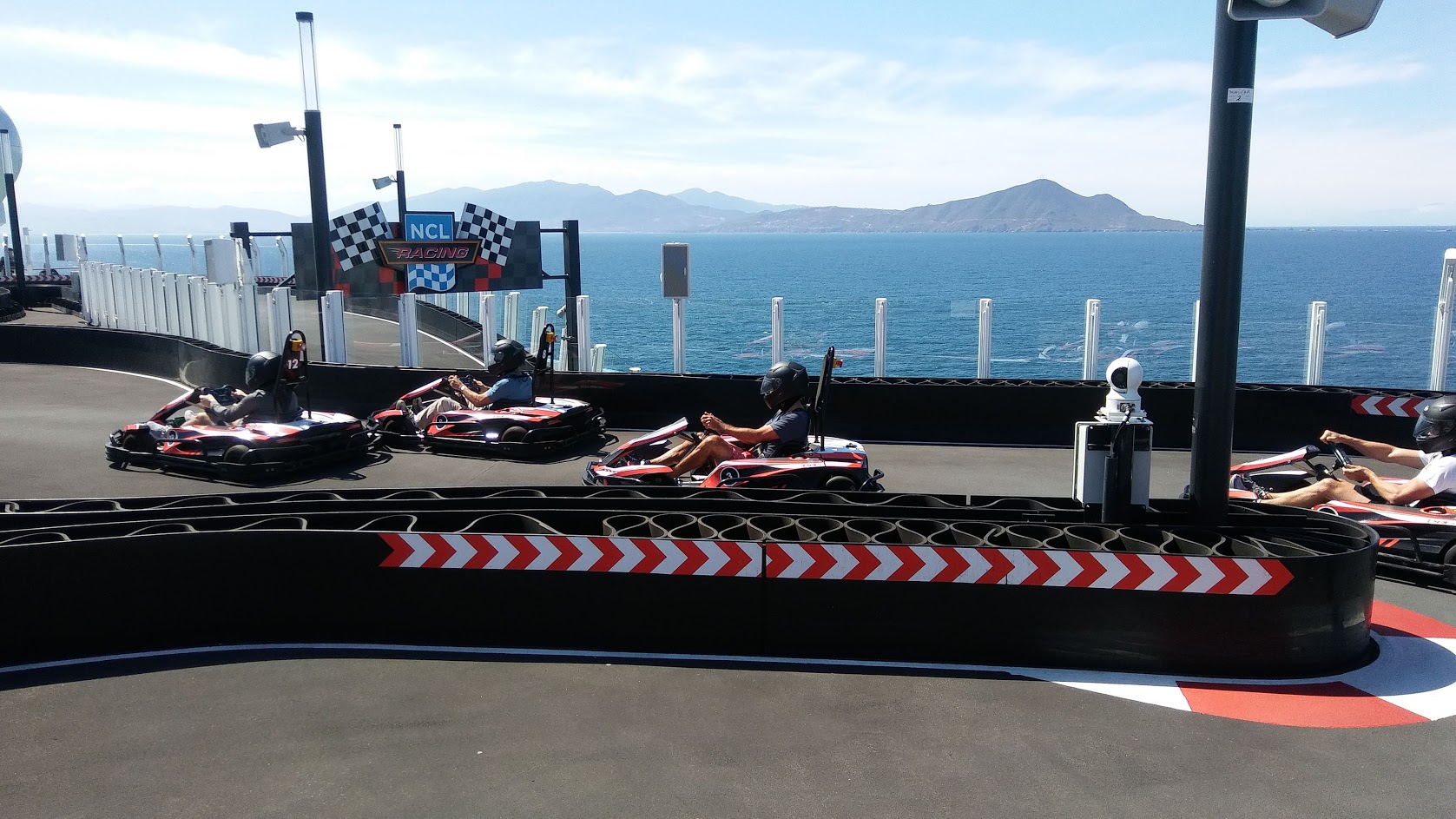 Hello all ! You have kept me quite busy with your own trips so I have had little time to tell you what I have done the first 3 months of the year to make me a better travel agent for you. I attended the Sandals Home Based Agent conference and Sandals Wedding Specialist training at Sandals Royal Bahamian. I also spent a week in the Riviera Maya checking out 10 more resorts and one more tour so I can share more insights with you. The Home Based Agent conference was a chance for me to meet back up with key resort personnel and to see changes at Sandals Royal Bahamian and across the chain. They had just finished a major remodel at the resort before our arrival. Colors and textiles are different but things are still similar for those of you who have already been. They reduced the need for reservations which is wonderful. We toured many of the new room levels offered since renovation and got to dine around and sample the cuisine. We also got to hear the V.P of sales belt out several tunes in the Piano Bar. It wasn't all fun as our days were spent learning about all the new changes across the brand. The new rooms and changes are really going to impress you. Some of the agents spent the last day enjoying the resort or a tour but I opted for the Wedding Specialist training. Sandals has so many ways to make your day special for a couple or a large group that it too most of the day. I would love to share with you the different décor, cake, and even specialty drink options they have now just give me a call. We can also discuss the amazing new venues like the over water chapels that you can choose from at each resort. We learned how to help make your experience from booking, to wedding, to weddingmoon a relaxed and fun event. My week in the Riviera Maya offered me a chance to visit more resorts from Puerto Morales to Tulum. We began our vacation by trying out a new transfer service Kalido and other than having a bit of a hard time finding them when exiting the terminal they were great in both directions. Our home base was the adults only Breathless Riviera Cancun. Their motto is welcome to the party and we experiences plenty of that. If a party is not what you want then there are 3 distinct areas for you to check out to get away from activities that may not suit your tastes. We spent a day at Secrets Silversands. Again an adults only option this resort has a more laid back feel and a deeper beach to lounge on. We found the water bicycle aerobics one of the more interesting things we have seen. The resort is not as large as I expected it to be. The bungalows over the pool at the end of the resort are an interesting addition. I spent another day visiting a variety of resorts with Amstar transfers. Dreams Tulum (Family), Akumal Bay (Family holistic), Secrets Tulum(Adults Only), Platinum Yucatan Peninsula (Adults Only), Ocean Riviera Paradise (mixed options), and Dreams Puerto Adventuras. They were a great mix of options and I would be glad to help you decide which one is for you. We took one day and did the half day tour of Rio Secreto. The Maya ceremony mixed with the underground cave that we explored/swam in made for a great day. They do not let you bring a camera for safety but the pictures you purchase later make up for it as there are picture of your group and professional cave photos. Mexico really offers a diverse range of resorts and tours. Make sure you let me know all the things you really want from your vacation so I can best match the options to you.
Many people gravitate to cruises and all inclusive resorts because of all the things that are included in the price. For new travelers it can be a big decision which one to choose. I would like to share some difference and observations to make this decision easier.
1. Do you have a passport? Do you have enough time and the inclination to get one? All inclusive resorts are very limited in the United States. Most cruises that depart and return to the same U.S. port do not require passports. I do recommend them in case of emergency or missing the boat literally; it is hard to fly back to the U.S. without one.
2. What items do you want to have included in your initial price? Most cruises do not include alcohol, soda, bottled water, gratuities, and transfers. Many all inclusive resorts include all of these items. There are of course exceptions as many luxury cruise lines include everything even excursions at port and some lower priced resorts require up charges for higher quality alcohol and tipping can make a large difference at resorts were it is not included in the price. In both cases frequently a package or room level can be purchased that covers the extra items if you desire.
3. Do you want to see more than one location? Cruises really shine here because you get to see many places. Just remember to subtract almost 2 hours from your time in port due to getting off and back on the vessel. You can get a similar feel by really exploring the area around the all inclusive resort you choose. You could stay in Montego Bay, Jamaica and spend one day in Ocho Rios climbing a world famous waterfall, spend another in Negril cliff diving and enjoying its amazing sunset, and then relax and enjoy plenty of relaxation for the rest of your vacation.
4. Does being around large numbers of people bother you? There are cruises ships and all inclusive resorts that are smaller and have a smaller guest ratio. DO you love the feel of Vegas? There are cruises and resorts that can offer that same energy and amount of interaction with people. Do you want an adult's only atmosphere? Many resorts cater to adults only clientele. There are a few cruise lines with sailing that are kid free and others where children are less likely to be prevalent. Many cruises also have adults only areas but the sizes vary by ship and line.
5. What kind of entertainment are you expecting on your vacation? Many cruises have Vegas type shows, ice skating, surf simulators, sky diving simulators, activity coordinators, and water parks/programs for the kids. Resorts often offer a variety of nightly shows ranging from camp like to more professional. Family resorts often have a water parks/programs for the kids. Resorts also include a variety of non motorized water sports and some include water skiing and tubing. Most resorts also have activity coordinators that can keep you busy and entertained.
6. What level of service and pampering are you expecting? Many resorts offer concierge and even butler service in their top tier suites. The additional amenities vary by resort. Cruises also offer concierge or suite service for their top levels of cabins.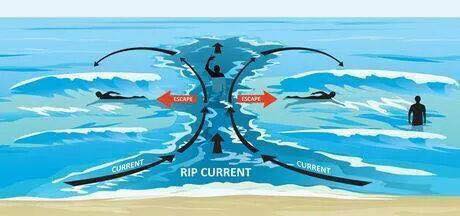 It is important to be able to identify a rip tide and know how to escape one. These tides can be deadly to those who are uneducated. Both of these pictures that I found on the internet offer good visuals on the basic look and how to escape. These can happen on any shore any where but some areas are more prone to them. Please educate yourself and your loved ones.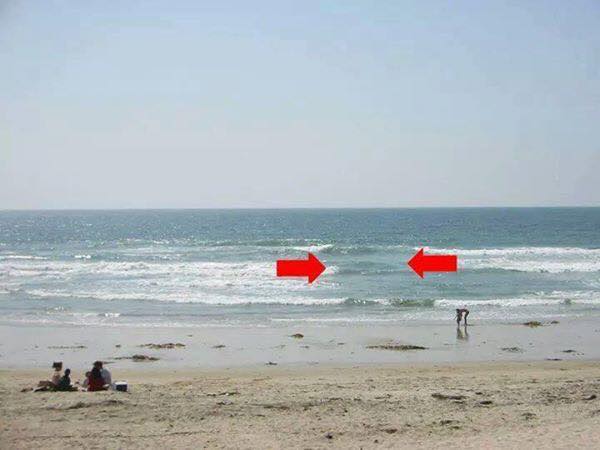 Our smiling private driver from Lomas picked us up at noon and we were off to Cancun. He drove along some of the small port areas and it was nice to see the differences in the area. We then drove the the Cancun shopping areas and were surprised at the number of chains you see on every corner at home. We arrived at Sun Palace a little over 30 minutes later and went to check in. I forgot my hat in the van but did not realize it until he was gone. I lamented needing to by another hat but should not have worried as our driver noticed it and brought it back for me and would not accept a tip as compensation.
We were led to the private check in area and given a flower, cool towel, and drink. They explained some of the resort and given a map. Again we were early so our room was not ready. We headed out to get some lunch at the poolside grill. The first time ordering at a resort you are always unsure of the portions and we ordered too much. After eating we tried the activities pool for a bit and then explored the resort till it was time to retrieve our key cards.
Around 3 we were given our cards and were off to room 726. The suite had a king bed draped with some sheers at the head of the bed, a 2 person Jacuzzi, shower, and double sinks. The room had alcohol that we never used as well as a mini fridge stocked with soda, juice, and beer. There was a bottle of red wine set up as well. We had one of the smaller balcony options but it was large enough for two to set out and gaze at the beautiful water and waves. The room was supplied with a blow-dryer, flat iron, and Chi products; I used these the whole time and felt no need to use my own which is a rarity. The suite also had robes and slippers. We unpacked and headed back to the pool. Along the way we noted how pretty the lagoon was. We also stopped many other nights to watch the sun set over the water.
We ate once at all the options during our 4 night stay. We started of with the Mexican option. The food was good but the service was just a tad slow. We asked others about their experience and others said they had no issue so maybe our waiter was having an off day. The second night we ate at the Italian option. The food was quite good. The hubs decided he really like spicy arrabiata sauce. The service was good and very attentive. Our third night was spent at The Steak. This restaurant is set up in the evening off the quiet pool. You can choose a variety of meats to be cooked on the grill and then the rest of the meal is mostly buffet style. Sitting and watching the waves for the early seating is nice but the glowing pool with the sound of waves in the background is also nice. Our last night we at the Thai option. The sushi sampler was nice and the food options were tasty. The fried ice cream was our favourite dessert of the trip. We ate at the breakfast buffet a few morning and found there was plenty of options and many that we would not consider breakfast foods but were tasty. We did order room service for breakfast and it came in a timely manner and was hot and filling. Lunch was done at the poolside grill or the buffet and both had plenty of options.
We took the bus they provide one day to Moon Palace a family resort. The drop you off at the Sunrise area. This resort is very large and is made up of the Sunrise, Nizuc, and Grand areas. Sunrise has a grand lobby with several food options in side. The kids water park and the flowrider are located here along with lots of meandering pools and other food and drink options. They seem to set up small food options all over the place. The beach was not bad but the water was not the pretty color of Cancun and did have a lot of seaweed and some smell from that. We wandered around and then continued to the Nizuc side. We passed several very nice garden/pond areas. There was also a put put golf area and a place to check out bicycles to get around the resort (bring tennis shoes as you can not borrow with flip flops). The food and drinks continued to be plentiful in this area and there was a large water slide. The water sports centre is located here as well. We hopped on one of the golf cart type transportation shuttles to the Grand lobby. The Grand area seemed the most quiet of all three areas. They did have pool volleyball in one of the pools in this area and it got a little louder then. You also have a good view of the protected area for the sea turtles. The entire resort has a lot of green space as well as its own golf course and Concert venue. We reboarded the bus to return to Sun Palace at 5 in the evening.
We took the public bus to 2 other Palace properties. The first was Beach Palace that we again had full use of with our bands from Sun Palace. This resort was also a family option but is located on the Cancun beach area and at less than 300 rooms significantly more compact than Moon. I toured the resort with one of their representatives while the hubs relaxed in the pool. The resort had a lot of similarities to Sun Palace but had a little more green space. There was a slide and kids club for the children to utilize. There was also a coffee/sweet station that Sun Palace did not have. Our favourite spot was the rooftop terrace that had pools and whirlpools on both sides and a glass edge so you had a great view. Children were pretty absent here till mid day and there were bars and food options up there as well. It felt like a quiet oasis. I also saw another terrace on the next level for weddings with a great view of the ocean. In front of this resort off the street is their convention centre. The roof of this building has a great Mayan mosaic and can be used for larger functions and looks neat from the other roof top areas. We again took the bus at $1 each to Le Blanc resort. This five star Luxury resort does not have exchange privileges for those staying at Palace. The entry off the main drag is a little non descript till you get to the water feature at top with the metal Palm sculptures. When you enter the resort proper after receiving your cool towel and coconut drink you feel instantly relaxed with the billowing white sheers and comfy seating. Each couple is individually checked in at their own desk. This resort offers a lot of green space with 3 main pool areas. The guests are pampered with attentive service in all areas of the resort. The alcohol selection is upgraded even more than the Palace selection and so are the room amenities. The spa was one of the more relaxing and well thought out options I have experienced. Maybe you can tell but we kinda fell in love with this one but unfortunately the tour was was over and we again took the bus back to Sun Palace and continued our evening.
Night time entertainment at Sun Palace varied night to night. We loved the fire show on the beach but missed the Masquerade and Glee nights as we opted to chill in the lobby bar that is more like their night club. Karaoke, dancing, and relaxing were the norm here. They had a set up of pressed sandwiches and and snacks when the bar was open during the day. We also retired early to try out the 2 person Jacuzzi . Follow the instructions to avoid too many bubbles LOL. There were other bar options outside on the deck area if you just wanted to enjoy the waves and each other. We saw many couples do their private dinner on the beach and it looked romantic but maybe a little crowded on some nights.
The spa offers hair, nail, or the fish spa in an area & others in another. The sauna had a cinnamon scent and the steam room had eucalyptus. The treatment rooms looked relaxing and they offered a massages, wraps, and scrubs plus others. There was also a romantically lit whirlpool area. The sauna, steam-room, and whirlpool can be used by all guests without purchasing a treatment just speak to the people at the spa desk. On the second floor of the resort is the gym that faces the lagoon area.
My final full day was spent touring other resorts in the Cancun area. Amstar was again my very helpful transportation to all these locations. I explored Golden Parnassus, Iberostar Cancun, Secrets Silversands, Secrets Playa Mujeres, Dreams Sands and Riu Palace Peninsula. It was great to see the diversity of options through these resort chains in the Cancun area. I will have more specific information on these later.
Check out was easy and we were again met by our private transportation people from Lomas and taken to the airport. We used the kiosks to print our passes and since we had luggage to check went straight to customs and immigration that was a lot quicker than at landing. They want you there 3 hours in advance so we explored the shops and had lunch. Having not checked our luggage we did have to go to the gate and have our passport validated by a SouthWest rep. We were at the end of the A boarding group and still managed to get a good seat with lots of legroom for the hubs and were soon on our way back to the U.S.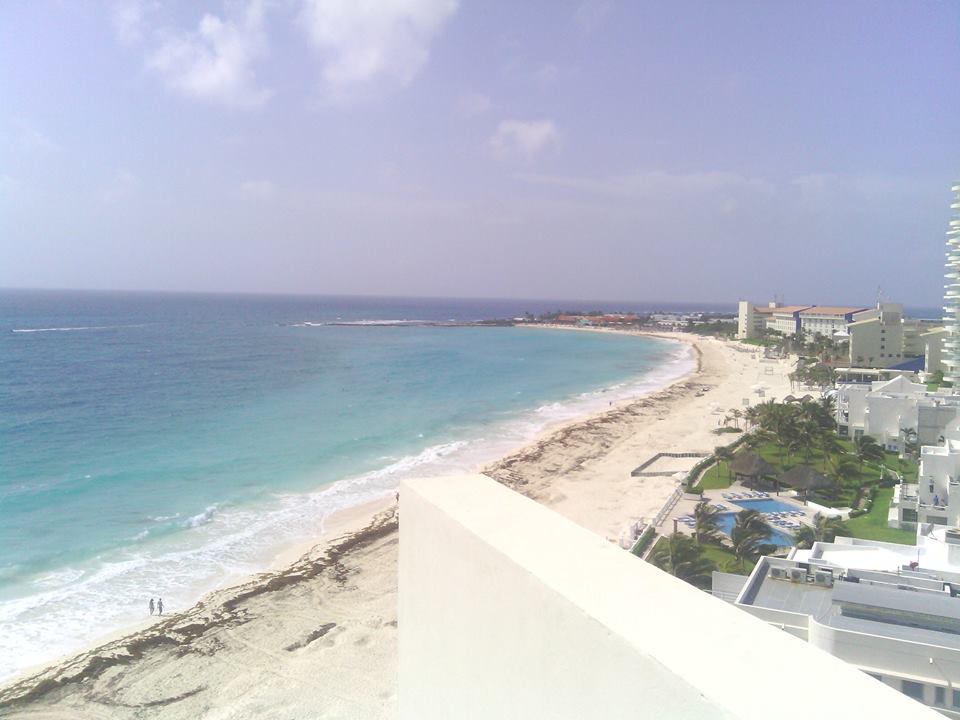 Our private transfer driver loaded our bags and we were off to the Playa Mujeres area. We continued on North of Cancun. Few vehicles passed us as the city gave way to more lush areas. About 30 minutes later we arrived at the gated marina/golf community of Playa Mujeres. We continued past the initial gate to the entrance of Excellence Playa Mujeres. We received our cool towel and champagne and started our check in. We were early so we were given a vibrating pager to let us know when our suite was ready. Having been early a time or two we had swim suits in an easy to access location. We left our bags and proceeded to lunch near the main pool. Full and ready to cool off we donned our suits and swam to the main pool swim up bar. Drinks in hand we explored the main pool and listened to the live band that played that afternoon. Our pager went off so we returned to the front desk to get our room cards.
We were shown to our suite 7354. The door opened to a beautifully decorated area.The king bed was tall with a red rose laid across the bed. The large L shaped seating area looked inviting and so did the welcome dessert and chilled champagne. Our bath had 2 sinks, rain shower with separate handheld and shaving bench. The room was stocked with several bottles of alcohol, a mini fridge with lots of beer choices including U.S. options, chips, and chocolate. There was a Jacuzzi tub just off the balcony with a view of the resort. Our spacious balcony had seating for us both as well as a double lounge bed. The room had a special box so you never had to open the door for room service and a good sized closet with an electronic safe.The hubs couldn't quit saying "swanky" from the time we entered the gates.
Only staying 3 nights we could not try all the food options but gave it a try. Our first night we went to the Tapas option that had been recommended by one of our fellow Zoetry guests. These were small bite portion with an artistic flair. We left full and enjoyed the ambiance. Breakfast was found at the buffet 2 of the 3 mornings. They had a great selection and fresh egg stations. One morning we did do the ala cart by the pool and I had wonderful blintzes. Lunch on the beach was themed and changed daily (tacos, burritos, paella) or you could do ala cart by the pool or the buffet. There was a great soft serve ice cream station off the pools that had fantastic vanilla ice cream. The vanilla in most things was so much more flavorful than what we are used to. Dinner our second night started at the Lobster House with lobster of course. It was good but the hubs loved the fish he had added to his meal. We finished at the Indian option Spice and I found it to have great ambiance and food. My hubs had never had Indian food but found some things he liked. Our final night of dinner was at the Mexican option. Again the setting was great especially the 3 singing guitar playing ladies that went from table to table playin requests. The food was great and the hubs discovered his new favorite of Churros. The room service menu was varied but we never tried to use it.
There were many daily activities and nighttime shows. A large board or the daily newsletter lets you know what is going on each day. You can do one of the many options or enjoy the meandering pools (complete with hanging beds, hammocks, and cabanas) long beach, or beautiful gardens. Each night there was live music and dancers in the main square followed by a show. The water show was quite inventive. The Michael Jackson show was ok since we thought the back up dancers we better than the king. the cultural show was ok what we saw of it but we decinded to go enjoy the pools instead. There was a DJ in a black lit club with billowing sheers on the beach, sports bar, or one of many other bar options to chill at after those shows were over. The beach offered non motorized options included or snorkel excursions. Many other water options could be added for a fee. We saw many parasail or just walk up and down the beach.
There is an Excellence club option that gives you a special spot on the beach with upgraded beach chairs, access to a private lounge, and access to 3 hidden quiet pools. These rooms also have the best views on the property. we did not go with this option and had a great time. I will say the roof top terrace rooms did look like something I may do in the future. Our building had a concierge and he called at twice just to make sure all was well and see if we needed anything.
My second day at Excellence I was taken by the sales manager to tour their two neighboring resorts that cater to different clientele. The first was the Beloved boutique resort. This was not an adults only option but had a quieter more laid back feel. The resort had a desert architecture feel. Mesa type buildings with whitewashed wood. Many of the room had true swim ups or amazing roof top terraces with large jacuzzis and outdoor areas. There was a kids area with a small waterpark. On the other side of Excellence is their newest resort Finest. It just opened in February and caters to families. Again this resort had true swimup room options with hammocks strung above the water. There was a kids club with activities for different ages and a small water park. There were lots of food and drink options for the whole family. The rooms were similar to ours but with a family set up. Again I saw some amazing suites that would be great for large families. The feeling here was a bit louder and active than beloved as you could tell it was all about family time. They were setting up for pirate day and it looked like a lot of fun. The rooftop bar was one of my favorite areas. All three of these resorts are nice options for the right people.
My third full day I toured several resorts in the Riviera Maya while the hubs stayed at the resort and made new friends. Amstar provided my private transfers had helped to coordinate my site visits. I visited Gran Bahia Principe Coba and Tullum, Dreams Puerto Aventuras, Grand Sunset Princess, and Secrets Maroma. I was really impressed with the Princess properties and Secrets Maroma was my favorite but they could all be good for the right people. I will do more specific info on these later.
We woke on our last day and did our usual farewell. We ate breakfast, swam in the pool, walked the beach and did our final packing. We checked out at noon and were again met by our Lomas driver for the next leg of our journey.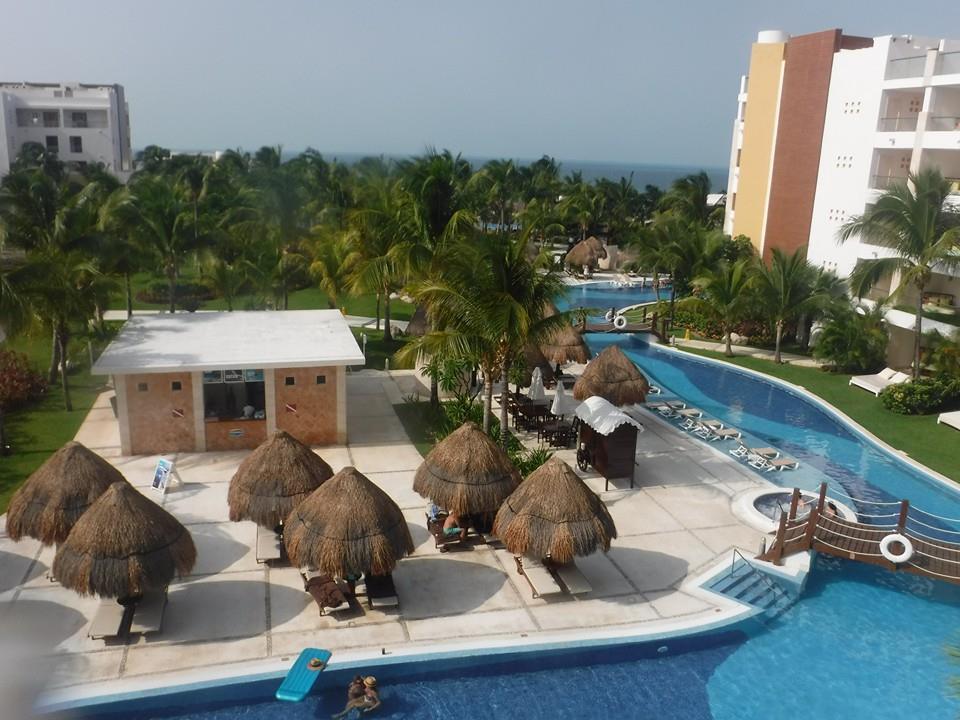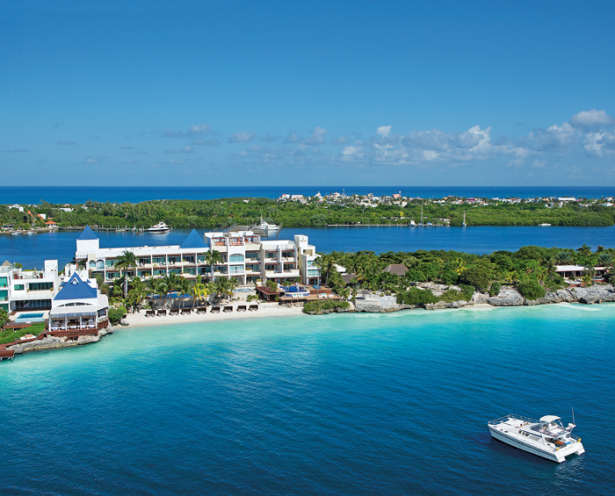 We just returned from 12 days in Mexico. We found the Cancun airport just a bit more challenging than other Caribbean destinations this time. We had 3 very different resorts as our home base for this trip; Zoetry Villa Rolandi, Excellence Playa Mujeres, and Sun Palace. I also saw another 17 resorts on the Caribbean side of Mexico. We did several excursions, and explored the general areas we were staying. We felt safe and unhassled throughout the trip.
Do to the many planes landing at the same time we had a challenging landing experience. We deplaned on the tarmac and took very full buses to the customs and immigration areas. Our line was not super long but it did take a bit. We only took carry on so we breezed to the second sections and had our bags scanned and pushed the search button. We got the green light (red means a bag search) so we continued out to find our transfer service. There are lots of time share people as you exit and it is hard to tell who to trust. We were given good information but unfortunately our service person was not outside the door so we got a little side tracked. We knew the colors of their uniforms and quickly got back on track. We checked in with the company and were off to our next destination in about 15 minutes. We used Lomas for this personal transfer service and were provided with water and beer. They dropped us off at Puerto Juarez.
Zoetry is on Isla Mujeres. We took the ferry from Puerto Juarez and got to listen to a gentleman play for tips on a guitar as we enjoyed the changing water colors and the many different boats as we crossed to Isla Mujeres. The taxis were lined up outside the port with clearly posted rates. They were very convenient and easy to use. We arrived to this 32 suite resort and found it smallish lobby to be welcoming. A cool towel and warm hello combined with a basic check in. We mentioned the tours we wanted to do as we checked in and found all items we noted to be there the next day. We were quickly off to our suite with our bags quick to follow. Our suite was on the main floor off of the pool. We had double sinks, dual shower heads complete with steam. The bed had sheers romantically draped from several points in the lightly lit ceiling. We had an L shaped sitting area and the colors of the room reflected the ocean setting and wood highlights of the resort. On the patio was a table with 2 chairs and a 2 person hot tub. We had a good sized bottle of tequila waiting with limes and salt. The mini fridge had sodas, juice, water, and beer. They also had M&M's and Pringles. In front of our L shaped sofa was a chilled bottle of sparking wine.
We unpacked and were off the explore our new home for the next 4 nights. The resort is only 3 levels high.
There were 3 pool areas including the saltwater pool that was jetted. The other 2 pools had infinity edges that allowed you to lounge at the edge and gaze at the Caribbean. We admittedly spent a ton of time watching the palms sway in the breeze as yachts and other boats passed on the beautiful blue and green colors of the Caribbean Sea.The beach in front was not huge but never seemed crowded. There never seemed to be a shortage of chairs at either location. There were kayaks and paddleboards for our use. There is no pool bar but it was never missed as waiters kept your drinks coming and provided meals or snacks at a request.
The resort has 2 restaurant options. The main restaurant had a great view of the sunset and the dolphin interaction center nearby. We always sat near the edge to watch both as well as the ocean. The menu here is large enough for several restaurants so your choices are not limited. The chefs specialty restaurant only served dinner, It was a 7 course chef's menu that changed nightly. I greatly enjoyed the inventiveness of the options and some were incredible. The picky hubs had more trouble with this though. The house wines were quite good and there was a large variety of Mexican beers as well as some american options. Liquor was top shelf. This resort was not adults only but we saw few children.
There is a gym, spa, and a lovely wooden yoga area with provided yoga and lessons.
We did 3 excursions/outings while we were there. We started with our most highly anticipated option of the Whale Shark swim. At 7 in the morning we left to find and swim with this fish. We did get a short swim with this 35 foot creature. The boat ride was long, choppy, and we lacked in shade. We are still glad to cross it off our list but I am unsure if we would do it again. Maybe during peak season when they are easier to find. The next morning we did a snorkel excursion to MUSA. Our first stop in the protected areas was an ever growing man made reef area. We saw a good variety of fish here. Our highlight was the second stop ending near one of the lighthouses. It was almost as if it was a fish supper highway. So many varieties and colors of fish. The current basically moved you along with them. We ended at the MUSA underwater sculpture garden. It was neat but I think it would be much cooler to scuba. My husband did see a sea turtle. Our last outing was a 24 hour rental of a golf-cart. We took a taxi to the rental area. We started by exploring Playa Norte the nicest beach on Isla Mujeres. It was a very lively area with many other tourists, shops, sites, and sounds. The sand is softest here. We then took off on the cart. We stopped at a beautiful church where many weddings are held because of the picture window offering a wonderful sea view. Then we were off to the opposite tip of the island to the goddesses temple. Little of the temple remains do to hurricanes but there is several art pieces. Our favorite part was taking the lower paths that got you close to the power and beauty of the ocean at this rocky area of the island. We continued on to the turtle farm. We saw tanks with turtles in various stages waiting for release. We also saw turtles, rays, and nurse sharks in their lagoon. The neatest part were the large fenced off area with tons of egg mounds marked with areas and dates that the eggs were laid. These will be protected and then released on the beach where they were laid. This trip we found that the resorts across Mexico perform a similar service to help ensure the continuation of the sea turtles. A little hot we ventured back to the resort to cool down in the pool and have dinner. Later in the evening we ventured back out on the golf cart to the main street near Playa Norte. We explored the stores and vendors and eventually stopped to listen to a band and have a "few drinks". Around midnight we made our way back to the golf-cart and headed to our current home. We parked the cart in the spaces in front of the hotel. They would pick it up at the end of our rental.
We also visited Isla Mujeres Palace. This resort is located down the island but on the same side as our resort. It has 64 rooms and is adults only. It has one main restaurant and a fire grilled pizza area. The main pool had a swim up bar and offered pool volleyball and other activities. There were kayaks and paddleboards for the vacationers. A spa, shops and gym completed the other main areas. The beach area was not much larger in size than Zoetry and the sea grass seemed to take up a similar area. This resort has beach clubs on both sides so it may be a bit loud when they are hopping. They did have a dock and an over-water bungalow for massages or weddings. The rooms had the standard double Jacuzzi and had different view options. I was told the common areas would be getting a refresh and the main restaurant would be enclosed soon.
Our last bit of time was spent enjoying the quiet beauty of this resort. We loved thewashing of our clothes was included in the price and they even pressed the roll back into my shorts. We did tip but it was not needed they have communal tips. This resort does have time shares but we never felt solicited or pushed. If I had not been looking I might not have noticed.
We returned to the mainland on our private yacht transfer included with our package. We sat up front and felt the salt spray upon our faces as we returned to Playa Linda. This gave us a great view of Cancun from the Ocean. The port also was the docking area for a couple of the Pirate ships and it was nice to see them close up. The Captain and others from the boat waited with us till our transfers arrived and we were off to our next destination.
Part 3 coming soon
     We will soon be checking out 20 resorts in Mexico. Part of my mission is to be able to give you real life experience not just repeat reviews or others opions.  
     We will spend 4 nights on Isla Mujeres based at Zoetry ZVilla Rollandi. It is a 32 suite resort set on this beautiful little island not far from Cancun. If all goes well we will swim with whale sharks and snorkle the MUSA underwater sculpture garden. We purchased special biodegradable sunscreen to meet the tour requirements. We also plan to rent a golff cart and knock around the island for the day.  IslaMujeres Palace will be a stop for us as well so we can see how this slightly larger resort compares to Zoetry.
     Then we are off for 3 nights at Play Mujeres. Our base this time will be Excellence Playa Mujeres. One day will also be spent exploring Excellence's family resort Finest and their boutique resort Beloved. Along with that the hubs will get to chill while I visit 6 other resorts in the Riviera Maya area on an agents only day trip.
     For our final 4 nights we will be in Cancun at Sun Palace. We plan to spend a day at Moon and Beach Palace to experience their family friendly resorts. We will also be checking out the Le Blanc Resort that starts at concierge level rooms. Again the hubs will get a free day as I check out 6 more resorts in the Cancun area on another agents only tour day. If we have any energy left we have talked about fly boarding. That is where the water jets propel you out of the water. I guess we will see. We may just need to sit and enjoy the beauty of the area and relax.
     I kind of miss when vacation meant relaxing but it is fun to see so many options. I love sharing these experiences with my clients. If you want to know more about the places we have experiences feel free to contact me.
/